Kmart Vintage Mechnical Watch!

'Attention Kmart shoppers!' (I just had to say that.)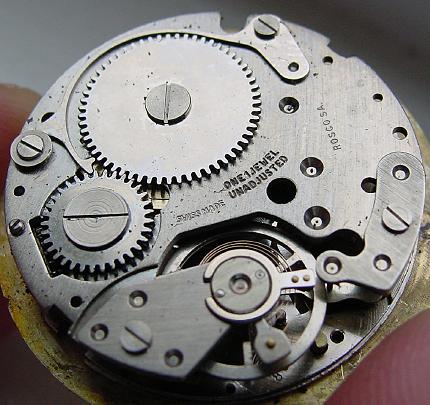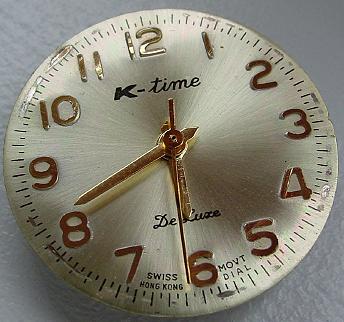 Sometimes you think you've already seen everything. I recently discovered that *Kmart* had a line of mechnical watches called K-time. Here are two single-jewel Swiss movement K-time models. For relaxing times make it Suntori Time. Here is a gold and a silver 'De Luxe' model. When you see something referred to as DeLuxe, don't you always get the feeling of cheapness, something being sexed up to appeal to a luxurious sense. I think K-time has that going on. This is a Timex-like 70s era watch I'm guessing, large chrome plated case, cheaply printed Hong Kong dial, and with a single jewel movement from ROSCO SA of Switzerland. Take a look at the movement pictured below. K-mart was probably the original discount superstore, and has had some hard times lately. Wikipedia has a pretty thorough entry on Kmart if you wish to learn more, for example that the Blue Light Specials were discontinued because of employee abuse. K-time keeps time, seems to work well. I don't think I need any more K-mart watches. If it wasn't for the iconic slanted K on the dial, there would be nothing special about this K-time.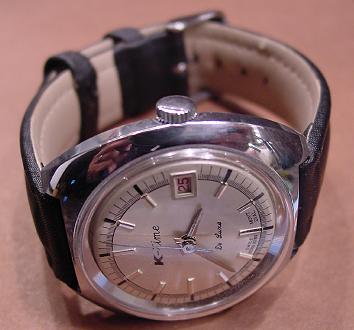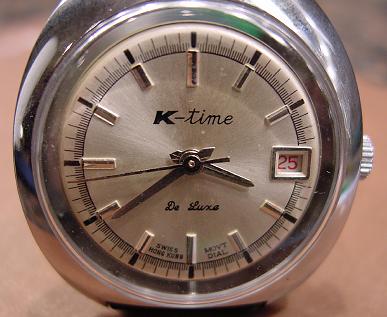 This site is not affiliated in any way with the Kmart corporation.