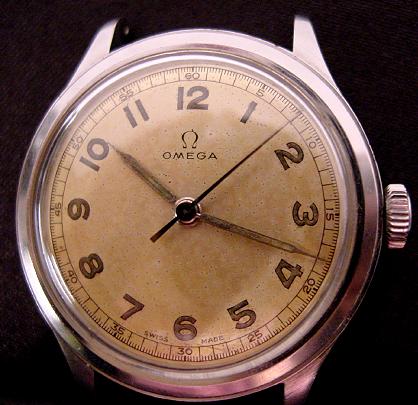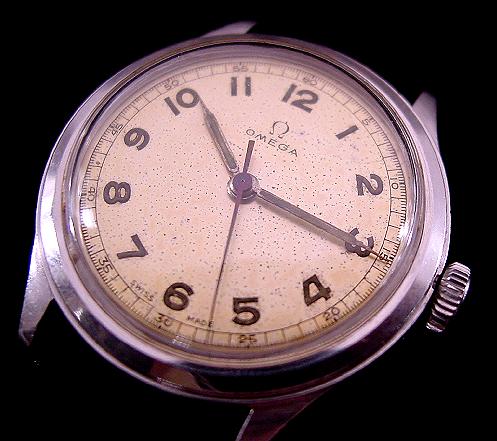 Omega 1944 - 1945 eccentric dial, center seconds.

This is a very nice vintage Omega watch from the 1940s. Manual wind, center seconds, chronometer grade 16 jewel movement. It's from 1944 or 1945, based on its movement number. Movement caliber is 30SCT2-16, a 16 jewel indirect central seconds type.

It's a bit of a mysterious watch. Some of these have 'US Army' issue markings on the back, but others do not. It seems like it was a civilian watch, for ordinary people, but that the US Army bought some and stamped the back so you can't steal it from them.
Click here
for some details from the Omega historian.  Mine has a plain back. The watch is large, measuring 36 mm across, which is especially large for that era, when wrist watches were often smaller. It runs very well, keeping time to about 5 seconds per day. Winds, sets very smoothly.
The dial is strange for that era. The hour numbers have an 'exploding' or 'eccentric' appearance, which you'll find one some of the more modern fussy creations gracing the pages of watch magazines.. I like it. My friend Bill in Vancouver calls this dial 'Modernist, almost Conructivist.'

The dial on most of these models has undergone aging. You can see these little black colonies dotting the surface of the dial, across a background of light amber dial color. These usually  had some sort of varnish or coating over the dial, and I believe this is what has yellowed slightly. It has a nice vintage patina to it which I like. More pictures below of this fine Omega.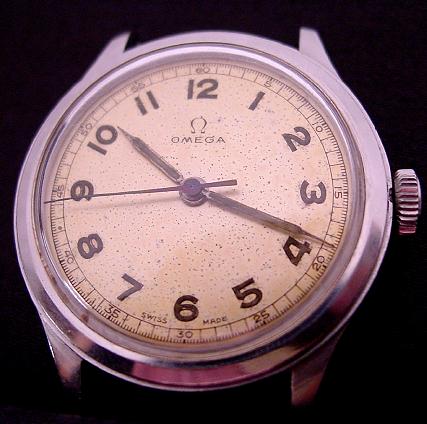 "Modernist, almost Constructivist...."