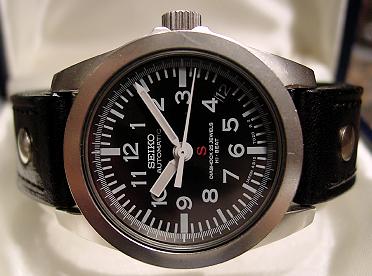 Seiko SUS with 4s15 movement. 'Military SUS' Seiko was made in mid-late 90s for a couple of years. Not sure how many were made, but watch seems rare now and sought out. Lots more on the page linked here but briefly this is a finely running watch with a premium movement, beautifully designed steel case, and well-thought-out dial and hand design. Notice a subtle date window at 4? On a thick black leather aviator style strap.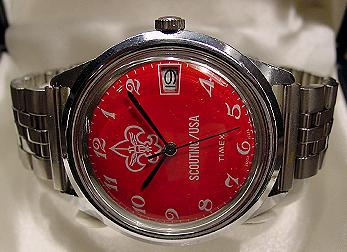 This probably needs a new strap, such as a green nylon 'camper' type. But this is a great Timex from the late '70s, Boy Scout logo. The dial is about as red as any watch I have seen. Black stick hands. The choice of font for the hours is a bit unfortunate, but I dont think it detracts enough from the watch. I wear it, but maybe on Saturdays. Definitely a weekender. Good large size, runs perfectly.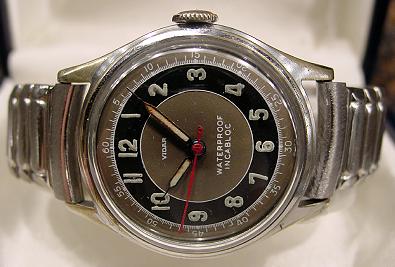 Vidar wrist watch, probably from 1940s. I really like the contrast in this dial, very pleasing to the eye. Crisp lines define the concentric zones of black, white and grey. Hours have good clean luminous. Little bit of corrosion along the hour hand, but not too ugly. This is a Swiss watch, fully jewlled, runs fine. Vidar somehow has resurfaced as a company, and is making watches called Vidar. Likely someone has just bought the name, and has no relation to the previous Vidar (which was likely an assembler of watches.)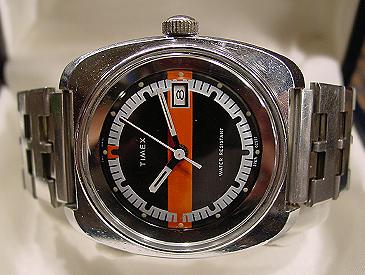 Timex 1977 bit of a disco look to it. They made these large case watches during this period, most with a date window. Most I don't have interest in, but I just liked the orange bar across the middle, and the white hands, and outer chapter. The dial is actually dark brown background.  Little details are nice, such as a thin white line around the date window, and the orange mark at 12. I appreciate that the designer included these details. The bracelet is a Timex original from same era. Case has some wear and tear. Almost all Timex cases were plated base metal. Later on, they had some proper steel ones.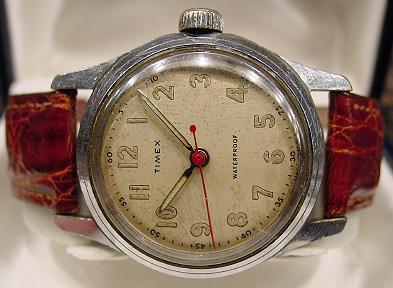 Timex waterproof 1950s wrist watch. Some wear to the dial and case. Nice effect I think. I like the red hand.

Simple, honest looking mid-century men's watch. Somebody left his thumbprint on the dial at 10.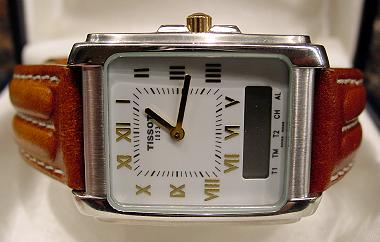 Tissot quartz watch, modern. Received as gift 2001 birthday, from parents.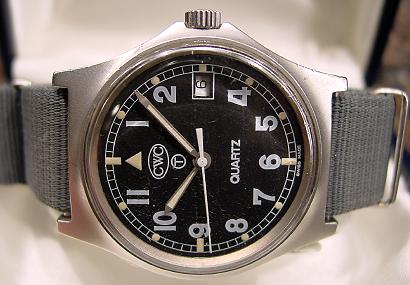 CWC quartz British Army issue watch. Runs in top shape. Fixed lug bars, needs a NATO strap (looks good in a grey one.) I saw a worker in the London Underground wearing one like this.