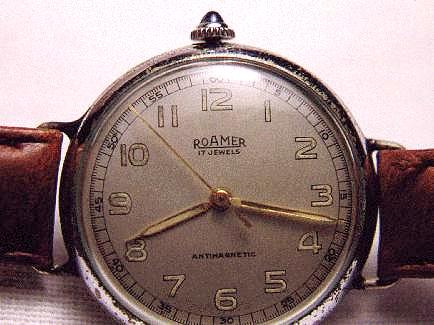 Roamer. This probably was a ladies pendant watch turned into a wristwatch.The winding crown (with a blue jewel) sits at the 12, so the watch is turned 90 degrees from normal as it sits on the wrist. As wristwatches gained in popularity, it was not unusual to have small pocket watches converted into wristwatches by soldering loops or lugs to the ends and running a leather strap through. This was terrible to wear, I just could not get used to how the numbers were oriented.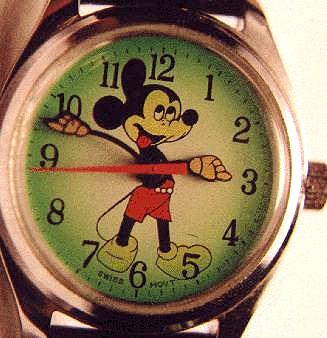 This Mickey Mouse watch really isn't Mickey Mouse at all - that is, if you ask the attack dogs at Disney. Somewhere along the way, it was felt that Mickey was public domain, and various 'bootleg' type counterfeit watches sprung up with the Mickey-esque character. Here, Mickey has undergone mental status changes, with his tongue wagging around, and his face with a touch of hemochromatosis. I really like the green halo around the dial. Counterfeiting is big among any type of watch that has high public profile. It seems like you've made it as a watchseller when they start to copy you. Cartierand other sellers often stage showy public displays, slightly pompous I think, where they crush the seized counterfeits with steamrollers. I tried to sell this on eBai, but Disney found it and made them shut me down.

In high school, I bought a fake Rolex quartz watch from a guy on a corner in New York City, near the horrible golden Trump Tower building.. He said, 'Don't worry, if it ever stops working, just come right back here. I will give you your money right back. I'll always be right here.' It ran for two years, then I threw it away. Maybe I should have gone back to get my money back.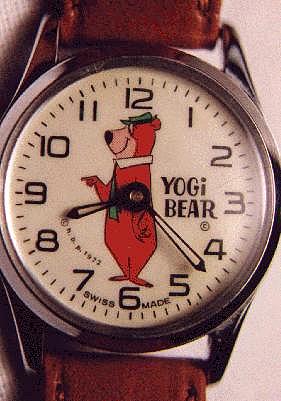 Yogi Bear. Many characters have been put onto old watches, including real people, such as Spiro Agnew and Curious George. For some reason, many Spiro watches were made, with many different designs, but I have never seen a Richard Nixon watch. Maybe it was illegal.

Wittnauer all stainless military-style with subsidiary seconds dial, and 24 hour markings, right and above right. Hands still glow, but the numbers no longer do.



Major watch houses all had trade marks. Click on the picture to see a few of them...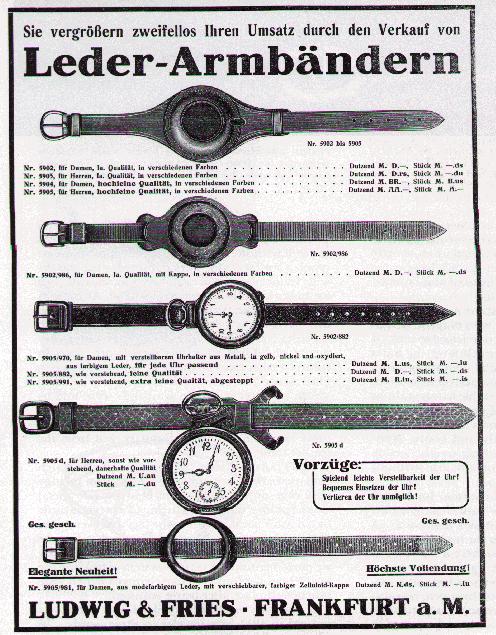 Click to see some of the various contraptions used, in the early days, to hold a watch to your wrist.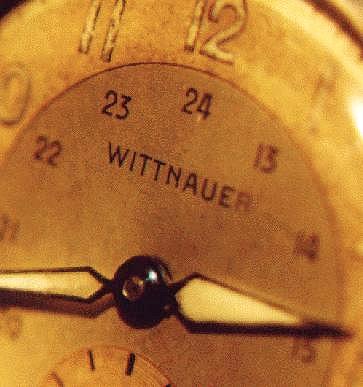 Special Pages

Watch Imaging: