From here, you can go to two different places, but no worries, no matter which choice you choose you can always get to the other very easily.:

1.
Go to main pages
of all the watches, side stories, ads, history, 'the main part of this Site.'
2. A new set of pages,
Watches I Wear
- A pictorial with limited text, showing a smaller collection of what I have distilled down to my personal collection of watches, the ones I will wear. These are, to me, the culmination of a quest for some kind of esthetic; one which I think I might have found in these articles having purposeful and often brilliant mechanics, good design sense, style, and sometimes a little bit of controlled madness.
My friend has said,

'Any collection of anything is really what the art world calls a conceptual act. The more conscious the concept, the more interesting the result.'

I hope I have been reasonably conscious.  I hope you like them. There are four pages in this new series, and from each page if you want you can get back to the opening page of the main website (1, above) via internal links, or go to
HOME
.
Alan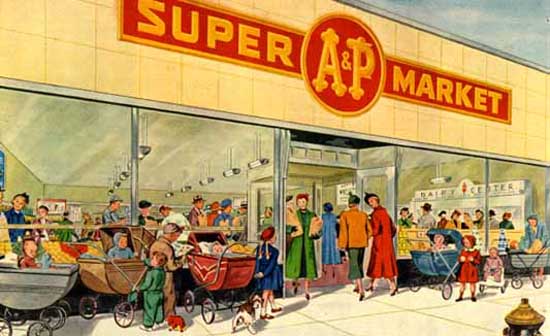 (Did people really leave their babies outside in prams when they went shopping, to be supervised by dogs and toddlers? Or was this some propaganda from the AP Supermarket to make you think their store was wholesome?)