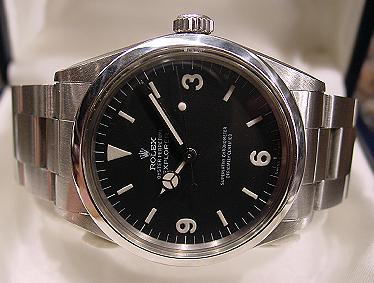 The watches I wear.

I have taken individual pictures of the watches I wear. Some I wear more than others, and some I enjoy more than others. But common to each is that they have remained in my 'collection' for a reason, and for that they are wristworthy. They each have something which fits into an esthetic of 'watchness'. It is all so subjective,but I don' think it's arbitrary. Here they are. Next to each picture is a description and some limited commentary. At this time some of the watches have links to click, for more pictures and info. I plan to have links to all eventually.

I hope you will like them.

Rolex Explorer, ref. 1016 from 1967. This is really  a fine watch.
Don't get hung up or put off by the name Rolex
, I used to be, and I will say I don't like much of what they make today. But I have come to understand the quality. This is probably as perfect as a watch can be. Easy to read black dial, clean look, finely running automatic chronomter movement, waterproof, no unnecessary flourishes, perfect size. Heavy steel bracelet. I really like this watch. Don't slag off the name Rolex just because many pompous people you know wear them. Just because you're paranoid doesen't mean they really are not out to get you.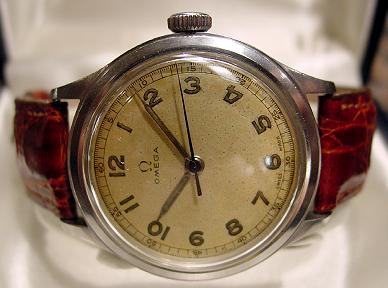 This is an Omega manual wind from 1944-1945. The numbers have an 'eccentric' orientation. Nice size, for that day, about 35 mm across without the crown. Little bit of aging to the dial, but not bad. Great steel case and domed crystal. At the moment, I have it on a brownish red crocodile strap. This watch runs very well.
Watch has a new 'low profile' vintage crystal, see some
before/after pictures
.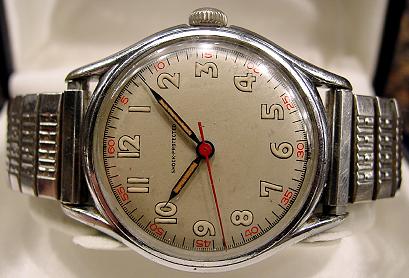 'No name' Swiss generic fully jewelled from 40s or 50s. Looks like a caftereria clock, simple dial, clean and easy to read. It's a pleasure to look at this one. I could see Thom Browne wearing this watch (and many of the old Timex you'll see here). Slightly raised applied luminous hour markers with a nice fine black like at the edges. Minute markers in red. Fine cosmetic shape, and runs beautifully. Bracelet is one of those stretch types, vintage period. I think it's satisfactory for this watch.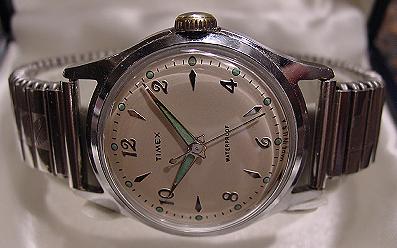 This is the first Timex I bought, and the first of many Timex on this page. It's from the 1950s.  This is one of the watches in the long-running 'Marlin' line of waterproof men's watches. It has metal marker as well as applied luminous dots at the hours, and filled-in luminous material in the hands. Dial is as good as on any 50 year old watch I have seen. As on this watch, many of these 50s Timex have lots of wear on the crown, from all the winding, though surprisingly you'll often find the case in good shape.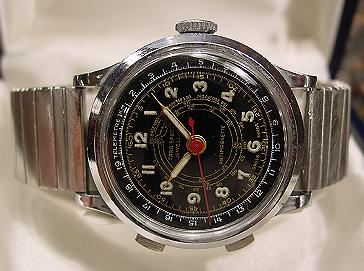 I call these 'dishonest chronographs' or you can just call it fake. It's a real watch, runs fine, keeps time etc. But unlike a proper chonograph, the buttons on the side serve to merely start and stop the second hand - as well as the entire movement! There is no true chronograph function. But look at the dial! Lots going on, for a very technical almost scientific look. This is the Tara Sport watch. Tara assembled very inexpensive watches; they were Swiss proving that not all Swiss watches were high grade. This had only one jewel, probably so they could write 'JEWELLED' on the dial. Lots of dishonesty here! But I like this watch a lot. The dial is amazing. The red second hand is particularly beautiful. The tick is loud and annoying.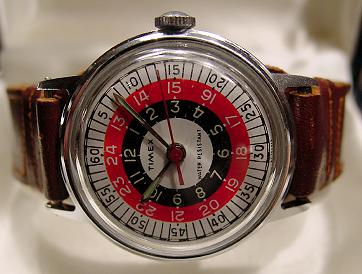 Timex Sprite model, from 1972. This is a smaller watch, so I have beefed it up by installing a funny old strap. The strap has slightly raised bits where the watch attaches, elevating it a bit and giving the appearance of more heft and bulk. The watch itself is lovely. 1-12 and 13-24 tracks in black and red, along with an outer white 0-60 track. The hour numbers in the black are luminous as are the hands.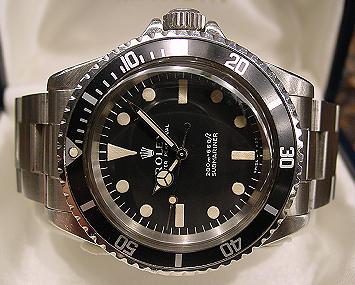 Rolex Submariner ref. 5513, from 1969. The Submariner is a diving model, which came out in 1954 I believe. Though it looked different from my later model (which looks very different from contemporary models,) much of the watch is the same, giving it a timeless look. It's been said this was maybe the most important watch of the last half of the 20th century. I am not sure how you can say that, but the Sub heavily influenced watch manufacture and design for many watch houses. So I guess it deserves its accolades.  Large watch, heavy strong waterproof case, heavy steel bracelet. The luminous material has aged a light eggshell color. Nearly perfect dial after all these years. Recently had it serviced and it runs very well.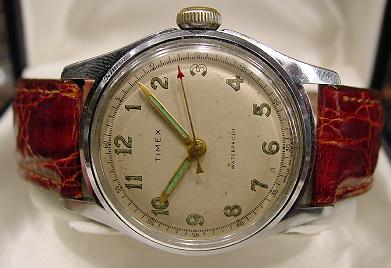 UK Timex waterproof from 1950s. Another Marlin, probably made in Scotland. Simple beautiful dial, red arrow seconds hand, good shape to the luminous hands and hours. It's got some gold along the hands and I worried it might clash with the case (I don't like 'two tone' effect in metals) but I think it looks fine. Runs well and keeps time, but seconds hand sometimes skips and acts jittery. On a crocodile strap currently.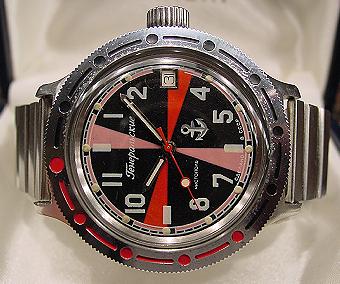 This is just great. It's a watch made by Vostok (Boctoc, Wostok) a Russian company or collective. There is a lot of mystery about Vostok. This is an automatic heavy large watch with a screw in crown. The dial pattern with the four sectors relate to maritime radio transmission. I'm sure this was just done for style, doubt any ship person would have used this watch. The pattern is explained, along with pictures of the original clock, in this link on Soviet watches. Watch runs well, seems fine. I have never been afraid to wear pink.