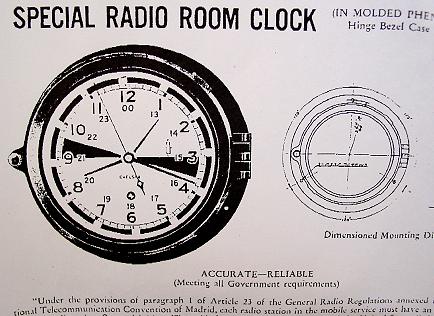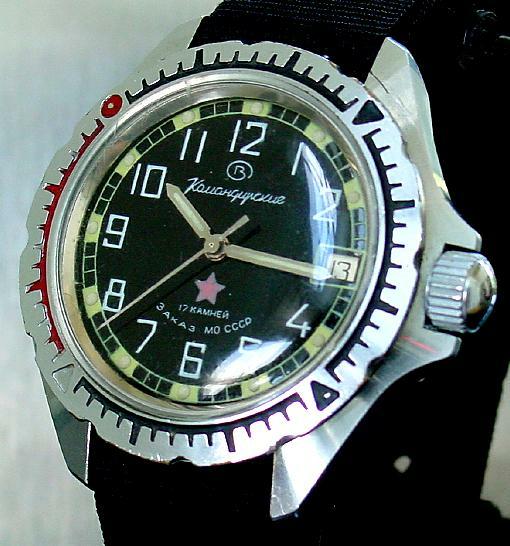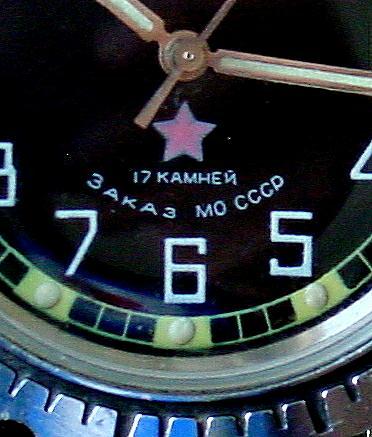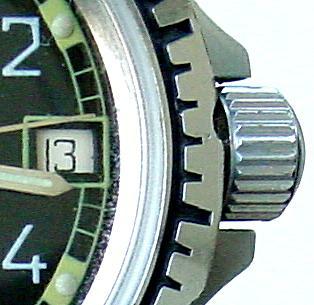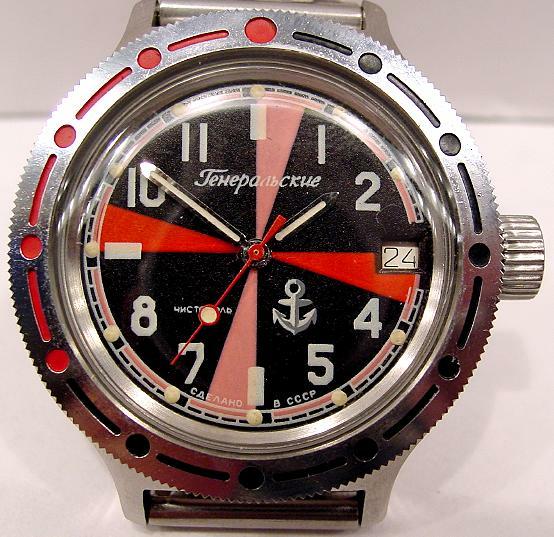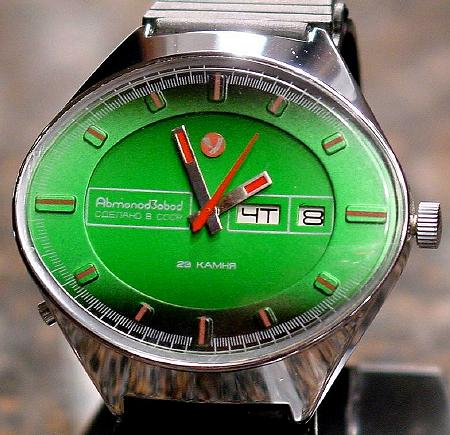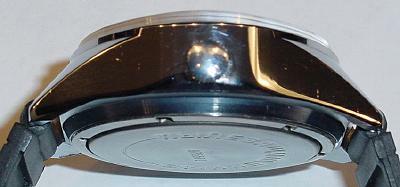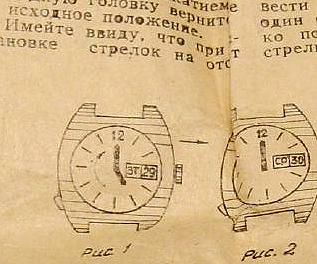 Russian / Soviet Wrist Watches

There is a lot to be said about watches made in Russia and the old Soviet Union. Compared to the US, there continues to be many low priced mechanical watches produced in Russia, but here are some old ones. The first is a "Komandirskie" model, show here with a black dial, and fairly simple markings. Unlike many of these Vostok watches sold today, this appears to be a true military issued watch. The 3AKA3 MO CCCP means the Ministry of Defence of the USSR. To the extent that this is not touristic verbiage (and sources at the MWR have said it is not) this was a military watch of some sort.  Below the red star is "17 Jewels," and the watch has a screw down crown for watertightness. Watch runs quite well, a nice piece of old Soviet history. I have one more

of these in mint condition on German strap.

This next watch is one I really like. It is also made by Vostok (for more info on Vostok,
click here.
) This is not a military watch, and the writing at the bottom, simply means Made in USSR. But it does have some naval military inspiration: note the pink and red triangle sectors on the dial, and the pink bars along the edge of the dial chapter.
See the below diagram from the Chelsea Clock Company (USA) on the Special Radio Room Clock. In the US Government specifications for the Chelsea clock, "the dial has accurate 4 second marks in red around the outside edge, over which the sweep seconds hand passes, enabling the radio operator to accurately transmit the 4 second alarm signal provided by the International Telecommunication Convention and the International Conference on Safety of Life at Sea." And later, it indicates that, "also marked in red on the dial, clearly and forcibly calling attention to the radio operator thereto, are the two 3 minute silent periods which must be observed by all radio stations at 15 and 45 minutes past each hour."

Thus, the marks on the dial edge are for the 4 seconds alarm, and the sector triangles for 3 minutes radio silence. The Vostok, a civilian watch with a homage to the radio room design, faithfully keeps the overall pattern, but adds two more sectors at 12 and 6!

This one is wild. Another great piece of Soviet history, this large watch is the "Stadium" model, created for the 1980 Summer Olympics in Moscow. I guess it is shaped like a stadium. This automatic mechanical watch is large, heavy and thick, and it runs very well with it's 23 jewel movement. Notice the day windor, in Cyrillic.

In the small ancient town of Uglich  (I didn't make that up) on the banks of the Volga River north of Moscow, this was made by the "Chaika" watch factory. Chaika apparently means seagull. The factory still makes watches, and it is rumored that the workers are not paid in money, but in watches, which they must sell to tourists to realize actual money. But I am not certain about this. Here's a lady in Uglich selling some watches. I have seen some of their watches online, mostly ladies watches, and in my opinion, a bit ugly..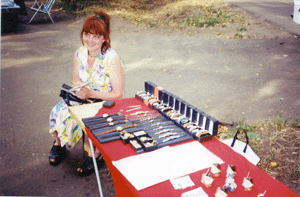 This is from a flimsy sheet of paper, which was saved by the original owner of this watch, telling you how it works, if you can read it. Pretty easy to figure out anyway, and it does have a button at 8 oclock to rapidly advance the date.

Not my watch band, but an interesting sort of Cold War detente item. The M(N)P means "Peace,"  USA and USSR are written next to it,  with American and Soviet flags on their respective sides.


Click here to see an interesting clock from a Soviet MiG military aircraft.
(Another page on MoD Military Vostok mint condtion, click here.)