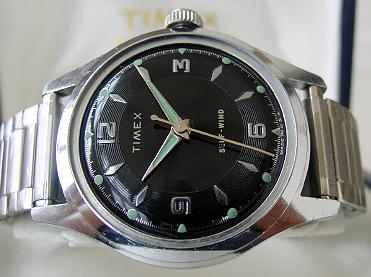 1950s 'Self-Wind' automatic watch from Timex. I had to take off the crystal to get a decent picture of this one, it simply would not photograph properly with the glass over it. This auto runs very well, green lume at the hands and hour dots. Deep black laquered dial. Some groovy grooving along the outer edge of dial. This one is a keeper.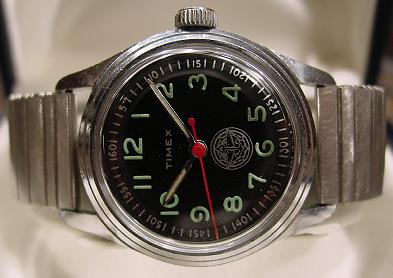 This is another 1950s waterproof Timex, with a logo at 6 which I am told is the Sea Scouts, a special wing of the Boy Scouts dealing with serious maritime matters. Dial is deeply black, with green hours and hands. Red seconds provides great contrast. The bracelet is vintage Speidel stretchy type. It was far too shiny, so I treated it with sandpaper and a metal file to give it some artficial Wabi. A bit un-authentic, but you should have seen how bad it looked when it was mirror-shiny. This makes it look more like a working watch. I'm wonder if the Sea Scouts would approve. Someone told me this was a U.S. Navy watch, and I believed it for a while and helped perpetuate the rumor.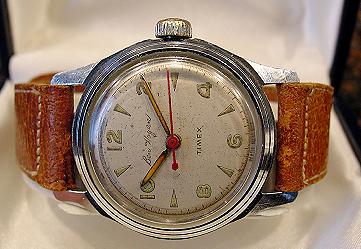 Ben Hogan was a golfer during the last century. Timex must have had an arrangement with him to produce some watches with Ben Hogan's name on the dial. These seem to be very rare, which is unusual for Timex; most of which are not rare at all, even ones from '50s. This is from 1953, runs well and keeps time. Yet another waterproof '50s watch along the line of the Marlin. Great dial and hand features. Very old strap, probably predates the watch.  Ho Ho Ho, Ben Hogan.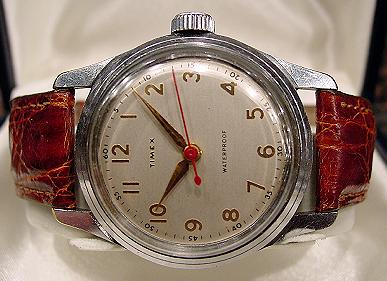 This 1950s Timex waterproof has no luminous material on dial or hands. No work in the dark. I even like the gold color to the hands and hours. Dial is essentially in perfect shape. Runs very well. Installed on crocodile strap.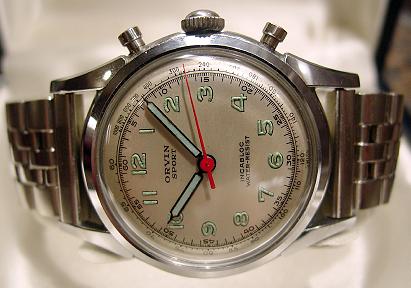 '
Orvin Sport' 1950s chronograph. This one has a slightly 'nerd science' look to it. Orvin was a Swiss make, and many of them seem to have sold through the American department store, Sears and Roebuck. Watch in very good shape  and runs fine. Clean dial, rather bright green luminous material. This is a proper chronograph with start, stop, flyback with no interruption to timekeeping. I'm not so sure about the bracelet I have on it. Works for me so-so, think I will replace it.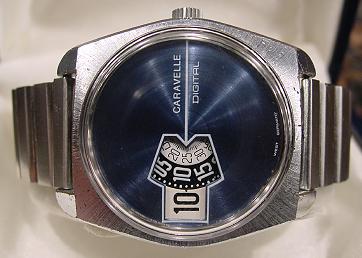 1970s or maybe 1960s 'jump hour' watch from Caravelle (a cheaper house label of Bulova.) This digital watch has basically the same type of movement as most standard mechanical watches. Instead of hands though there are these discs which rotate under the dial. At the window cut out in the dial, you read the time. Or you try. Glancing at this watch on your wrist, as you would to routinely tell the time is frustrating. I kind of hate these. It's just not intuitive to tell the time this way, and though I like this watch for what it is, I wear it just once in a while. Case seems very '70s to me.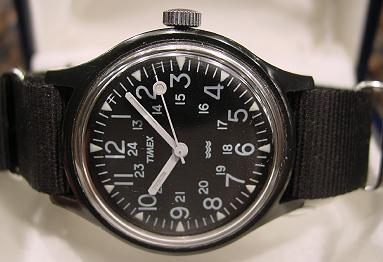 Timex military style mechanical watch, probably from the 1980s or possibly '70s. The case is black plastic 'composite.' That wiggle symbol above 6 is the Timex symbol for waterproof, and I think it came along during the 80s. This was given to me by a friend. Runs very well, installed on a nylon 'NATO' type strap.