Bulova manual wind watch. I dropped this onto a concrete sidewalk and the balance staff broke (this has no shock protection). The watchmaker was able to find a replacement, and it's running well. Bulova stamps the date of manufacture on each movement or caseback, and this one is stamped "L1" or 1951.

Case is plated. It's pretty roughed up, especially at the lugs. Notice over the OV in Bulova, you can see a stain on the dial, where the hand rested for decades. The luminous material discolored it.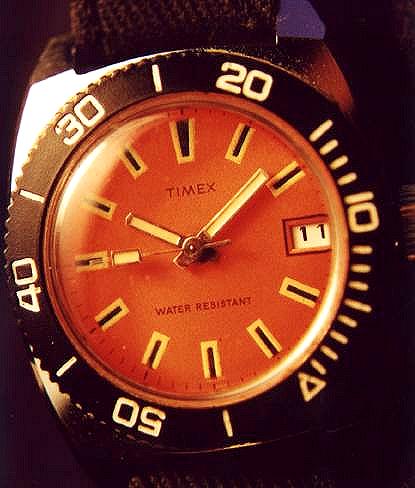 Timex orange-dial "dive watch," below. For whatever reason, some dive watches were made with orange dials. It must have something to do with underwater visibility. I'm not a scuba diver. I have snorkeled though and I never really accepted the concept that I should be breathing while my head was in water.

I think they look good. There are some famous dives out there. This Timex sure isn't, but I really like the orange.

Special Pages

Watch Imaging:


Scientists are still trying to find the Giant Squid. So far they have only found dead ones washed ashore or in fish nets, never ever in the wild.

If you remember this ad, click on the picture.