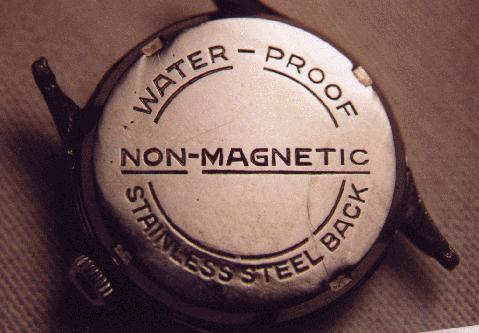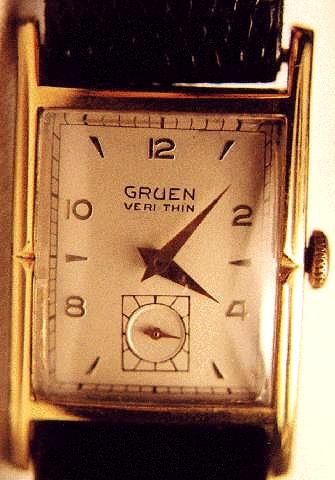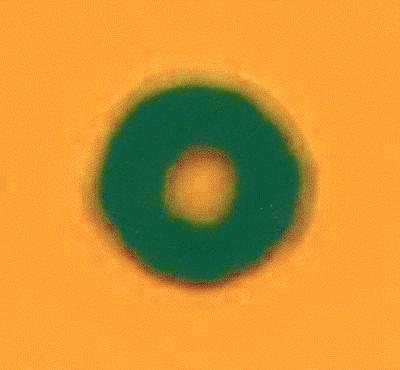 What the heck is this? Three more pages forward...

Gruen made the "Curvex" model, a lengthy watch which was curved to fit comfortably on the wrist. In order to achieve a tight curve, watchmakers designed a truly curved movement which was made up of three "plates" or flat parts of the movement, joined together. It was a patented movement, though you will see some curved case watches sold as Curvex, even though they're not. The Gruen below left has an ordinary flat movement, but the case is curved a bit. Movado made Polyplan, a curved movement watch.

Watch companies listed the properties of a particular watch either on the dial, the caseback, both, or neither. Some dials were cluttered by a list of all the features, so most of the "stats" were printed on the caseback. It's also a good place to find personalized information, such as initials, dates, and gift blessings ("To Howard, for 25 faithful years of service to the Acme Rubber Band Company, August 4, 1947.") Common claims were resistance to water, shock, dust,  and magnetism. One watch I have just says "Tropicalized."  Stainless steel was more costly than plated basemetals for the cases, but even with plated cases, the casebacks were ususally stainless steel.. Perhaps the plating would just wear off very quickly due to skin friction, and they had to use stainless for the back. I have also heard it said that if the backs were plated base metal as well as the case, a screw in back would eventually get messed up, the threads. So, one of the thread sets had to be steel.



Why is this mouse sticking his tongue out? Is he really who he claims to be?

Below is a sideview diagram of the Curvex movement. Asterisks denote the bends.


Many of my watches are from the 50s, a time when people were preoccupied with UFOs.

Westclox
Dive Watch. During the "scuba diving" craze of the last century, it seems like every watch making company had to make a "Dive Watch." There are a lot of them out there, with every imaginable name. There is great interest in these watches. Much can be said about them, but briefly and basically, these had to be quite water-resistant, easily readable, reliable and accurate. This Westclox is actually a poor example, as it is missing the rotating bezel, which divers for timing purposes. Still, I like way it looks even without the bezel. Note that the minute hand has the arrow, helping to avoid confusion with the minute hand. Here are some pictures of the
Rolex Submariner
, maybe one of the most famous of all diver watches.
For a few more pictures of my diver style watches,
click link.

How much should it cost to repair a simple vintage watch? $425 vs. $65?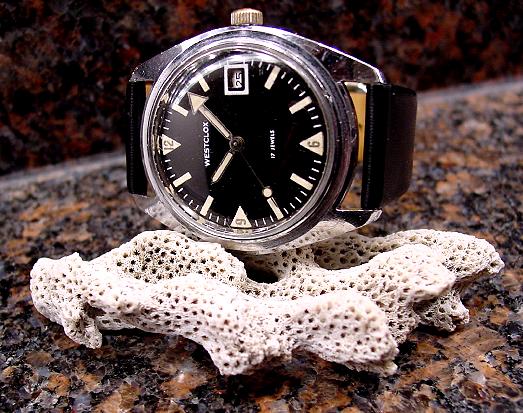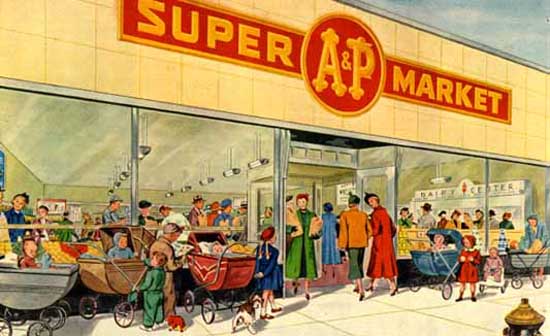 Many of the watches I like are from the 1950's. This is an ad from 1950, for the A&P Supermarket chain. Notice how the mothers leave their babies in prams and their toddlers, just parked outside the store! I wonder if like was really like this back then, or if this was some strange fantasy on the part of A&P to convince, by this ad, that their store is wholesome, clean and above all, safe.