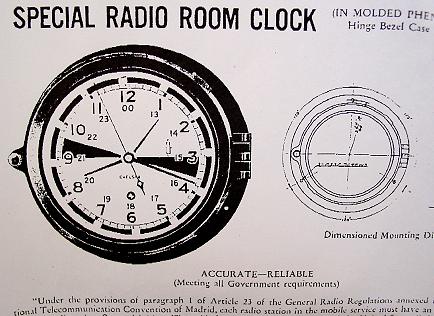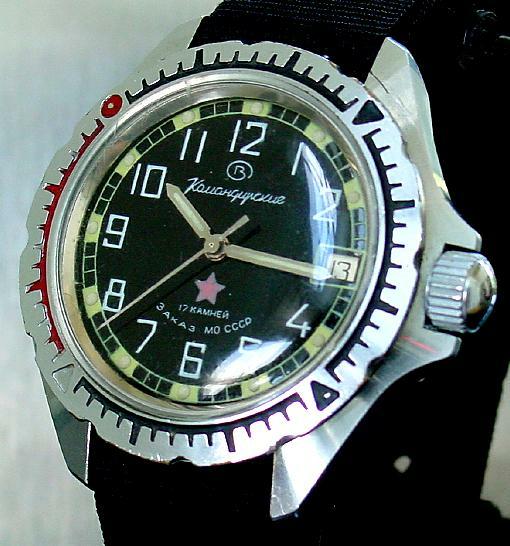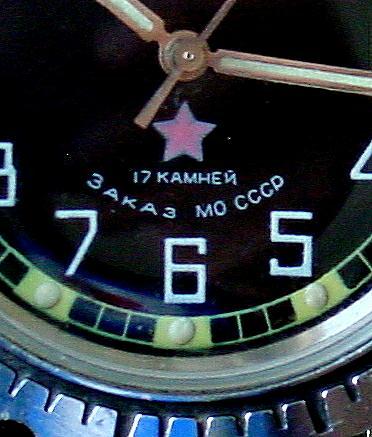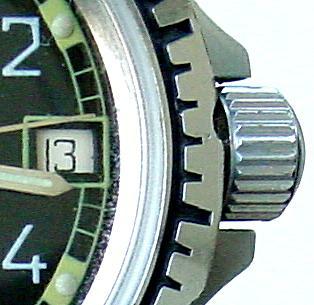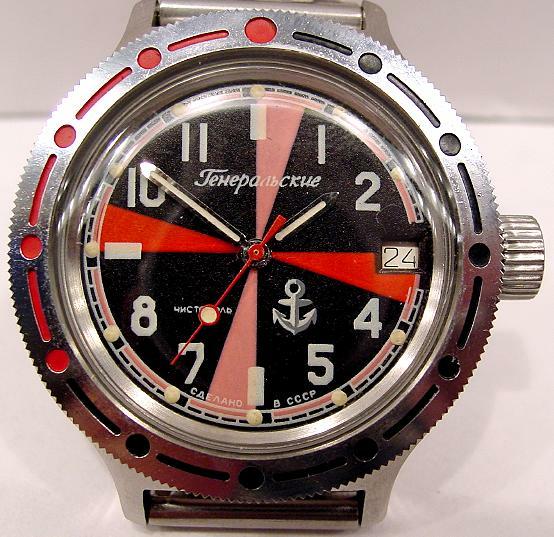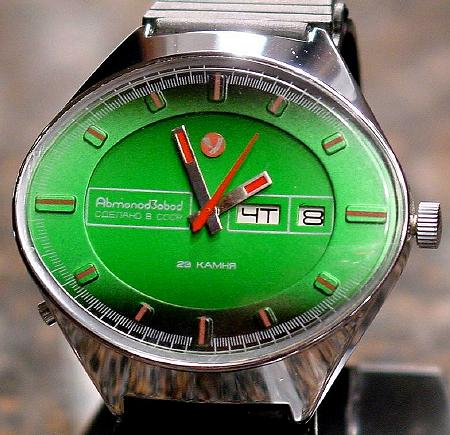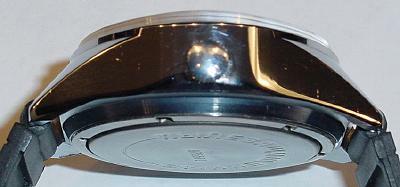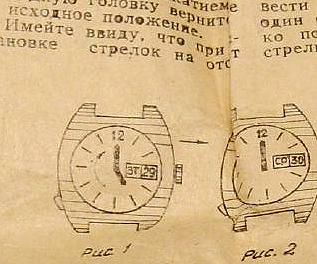 Russian / Soviet Wrist Watches

This is a long page, and if you wish, you can just go on to
page 10,
but some neat watches here, even a car, a factory, and a redhead...There is a lot to be said about watches made in Russia and the old Soviet Union. Compared to the US, there continues to be many low priced mechanical watches produced in Russia, but here are some older ones. The first is a "Komandirskie" model, show here with a black dial, and fairly simple markings. Unlike many of these
Vostok
watches sold today, this appears to be a true military issued watch. The 3AKA3 MO CCCP indicates association with the Ministry of Defence of the USSR. To the extent that these Russian watches can be authenticated, this may be a real military watch of some sort.  Below the red star is "17 Jewels," and the watch has a screw down crown for watertightness. Watch runs quite well, a nice piece of old Soviet history.
I have given this one away, but then bought another one
This next watch is one I really like. It is also made by
Vostok
(for more info on Vostok,
click here.
) This is not a military watch, and the writing at the bottom, simply means Made in USSR. But it does have some naval military inspiration: note the pink and red triangle sectors on the dial, and the pink bars along the edge of the dial chapter.
See the below diagram from the Chelsea Clock Company (USA) on the Special Radio Room Clock. In the US Government specifications for the Chelsea clock, "the dial has accurate 4 second marks in red around the outside edge, over which the sweep seconds hand passes, enabling the radio operator to accurately transmit the 4 second alarm signal provided by the International Telecommunication Convention and the International Conference on Safety of Life at Sea." And later, it indicates that, "also marked in red on the dial, clearly and forcibly calling attention to the radio operator thereto, are the two 3 minute silent periods which must be observed by all radio stations at 15 and 45 minutes past each hour."

Thus, the marks on the dial edge are for the 4 seconds alarm, and the sector triangles for 3 minutes radio silence. The Vostok, a civilian watch with a homage to the radio room design, faithfully keeps the overall pattern, but adds two more sectors at 12 and 6!

This one is wild. My friend Bill calls this "the most decidedly Soviet watch" he's ever seen, having "deranged heroic proportions." Well, he's right. Another great piece of Soviet history, this large watch is the "Stadium" model, created for the 1980 Summer Olympics in Moscow. I guess it is shaped like a stadium. Here, is from someone namded db, somehere in one of the old SSRs:

Sorry, my English is bad.

This is "Chaika" - watch from Uglichsky Watch Factory.

This watch was designed before XXII Olympic Games in Moscow. Non-official name of this model is "Stadium" - and this watches really like stadium.

Thank you for your interest .

Äàòà: 07-04-2001 on 00:10

This automatic mechanical watch is large, heavy and thick, and it runs very well with it's 23 jewel movement. Notice the day window, in Russian..

In the small ancient town of
Uglich
on the banks of the Volga River north of Moscow, it was made at the
"Chaika"
watch factory, pictured below. Chaika (CHI-kuh) is the Russian word for sea gull. It is also the unofficial name for the type of
car used by the KGB
Click link, or just see picture of car, below. It's pretty forlorn looking. The factory still makes watches, and it is rumored that the workers are not paid in money, but in watches, which they must sell to tourists to realize actual money. Sounds like an urban legend. Here's a lady in Uglich selling some watches. I have seen some of their watches online, mostly ladies watches, and in my opinion, a bit ugly..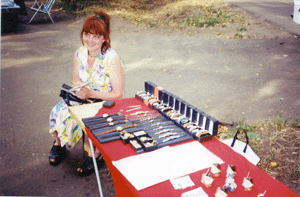 This is from a flimsy sheet of paper, which was saved by the original owner of this watch, telling you how it works, if you can read it. Pretty easy to figure out anyway, and it does have a button at 8 oclock to rapidly advance the date.

Not my watch bracelet, but an interesting sort of Cold War detente item. The M(N)P sounds in English, like "MIR" and means Peace.  USA and USSR are written next to it,  with American and Soviet flags on their respective sides.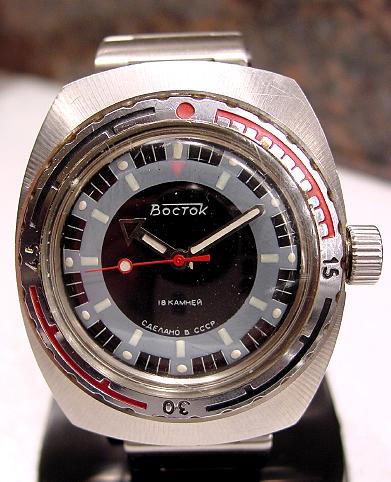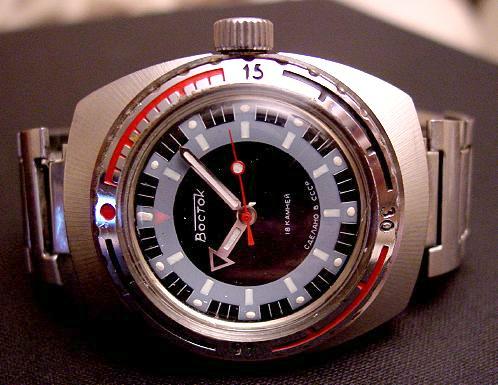 Here's another watch from Vostok, the way it would be written in Enlgish, based on the way the Russian word sounds.

On the Boctok signage, it's entirely fortuitous that it can be reasonably typed out on an English keyboard, as it could easily have been something unworkable. Signed, "18 Jewels, Made in USSR" on the dial above 6. Large 70s style case, but I like the dial with black, white and a sort of purplish-blue.

Though my experience has been limimted, the few Russians I have encountered online don't seem too thrilled about Vostok or Russian watchmaking as a whole. They'd rather talk about something else. I think if they had their choice, they'd rather wear an Omega or a Rolex.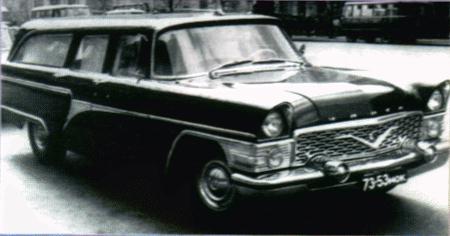 Communist party vehicle, the Chaika.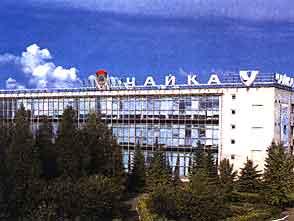 Here is the Chaika Factory

Click here to see a clock from a Soviet MiG aircraft..
(Another page on Military Vostok 1988 click here.)
Forget about watches for a moment, go out and EARLY VOTE!!
A majority of U.S. States allow Early Voting. Lines are projected to be very long on Election Day, backlogs and even impossibility of voting in some places because of unprecented turnouts and lack of preparedness. Ask locally on how you can vote early, or
see this website!