Tank style, black-dial
Bulova
'gents watch. Rose gold case, curved mineral glass crystal. This Bulova is probably from the '30s.
Click here to read a story
about this particular watch.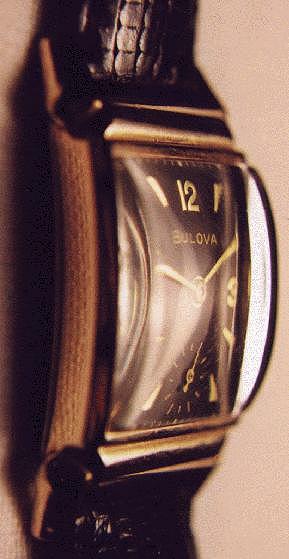 The below watch is a copper-dialed 'military style' watch, with unusual Roman numerals in radium. Made by '
Military Watch Company,'
this watch clearly was not anything close to an 'issue' watch, but was made to appeal to the public's interest in the style and association with the design. These styles were popular around WW2. This watch has a stainless steel case. Many vintage watches have beautiful, well-preserved dials, but are cased in
worn out chrome
or other plated cases. Stainless cases sometimes have few scratches but held up very well over the years.
Here is a niceTimex. This model, called "Sprite," sold for $11.95 in 1971. I like this because of the dial. What an absurd, wildly pseudo-technical look.  Below, is another Timex, this one a military look watch. This was from the '70s, and I found it in unusued condition. Runs perfect, with an auto powered movement. The dial is great with 5 colors, and especially the yellow outer chapter for seconds! This watch has the famous V-conic escapement, which was the result of years of research on the part of US Time to come up with a watch based on 'the new sciences.' I remember a television ad where they strapped a Timex to a gorilla. He went crazy from his caged oppression, but the watch kept on ticking. The gorilla couldn't break it.




Details later in the site!

Click on picture for image of worn out chromed case.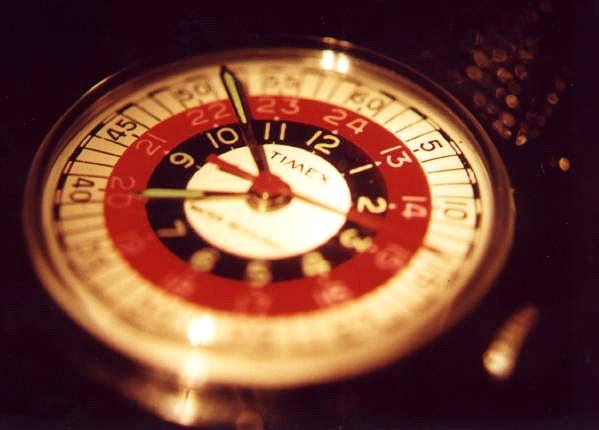 Roman numerals were unusual in watches of this style and design. This one has nice, thick paint on the numbers. Usually I don't like the Roman, but I liked this one.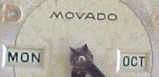 If you spoke
Esperanto
, you would know that
Movado
means 'always in motion.' Not a bad name for a mechanical device. If you speak
Volapuk
you are one of only 20-30 people in the world.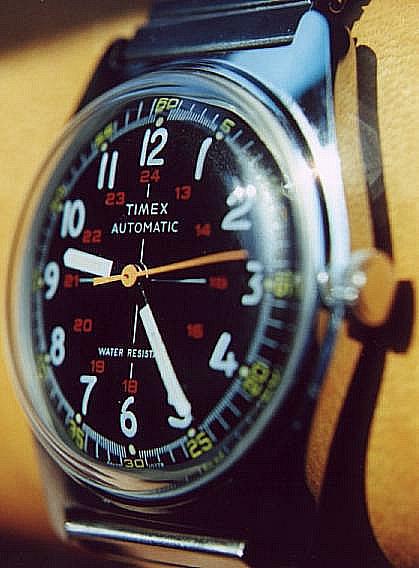 Little bit more on this watch...This is  a nicely-running bumper automatic watch, from ca. 1940s, steel case, copper color dial. It is called 'Military' and indeed, on the back and even on the movement, it is called '
Military Watch Company.'
This is likely just an invented name
, like many many other generic Swiss watches. (See later in site.) There was no watch manufacturing house, in the leagues of Omega, Longines, etc, named Military, but the watch was assembled from available parts. I really like this one. Nice red seconds hand. The hour/minute hands seem to have aged differentialy, or maybe the hour hand was replaced at some point, as it looks in better shape. That is indeed a thumbprint on the dial, some watchmaker or amateur really bodged it up. For other pics, including movement and caseback,
click here
for another page.